Online Postnatal Course
Understanding Your Baby
This course gives parents information about their baby's brain development and their baby's physical and emotional development. It shows how important their relationship with their baby is for the baby's development.
It integrates the traditional information given on a postnatal course with this new approach to developing your relationship with the baby. It looks at the baby's sleeping, feeding, crying, playing and childcare options.
The course was developed by Health Visitors working with health professionals in the Solihull Approach team.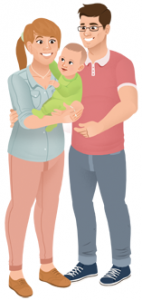 If a parent cannot access a postnatal group, this course is a good alternative
If one parent is in a postnatal group and their partner can't attend, this course is a good alternative for your partner and others around the baby
It means that everyone around the baby can do this course, including grandparents
There are 11 modules
There are interactive activities, quizzes and video clips
It works on mobiles, tablets, Pcs, Macs, ipads and laptops
Costs just £21
This course is best viewed with an up to date browser, such as Internet Explorer 11 (
external link
) or Google Chrome (
link
).

Module 1 Understanding feelings: both yours and your baby's
Module 2 Understanding your baby's brain
Module 3 Understanding your baby's crying
Module 4 How to respond to crying
Module 5 Understanding your baby's rhythms
Module 6 Developing healthy sleep patterns
Module 7 Understanding your baby's feeding
Module 8 Who's the Daddy now? – I'm the Daddy!
Module 9 Understanding your baby's development and play
Module 10 Understanding your baby's childcare
Module 11 Congratulations
The postnatal course costs £21. If you, as a practitioner or commissioner, would like to purchase multiple copies of the Solihull Approach postnatal online course,
contact us
or  
order here
 We will then arrange to invoice you and enable access. Discounts for multiple purchases are available. The discount is 10% for orders of 10-49, 15% for orders between 50-99 and 20% for orders above 100. There are larger discounts for hundreds or thousands of parents, with Multi User Licences available. Many areas buy multiple copies at a discount to use as part of their parenting strategy.
Parents