Schools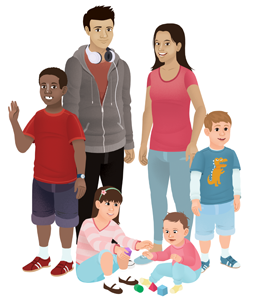 We have a comprehensive, evidenced based offer for schools to enhance emotional wellbeing, improve home-school relationships, improve attendance, and improve behaviour:
Schools Multi User Licence for SIX online courses: 
'Understanding your child' (main course)
'Understanding your child with additional needs' (main course),
'Understanding your child's feelings' (taster course),
'Understanding your child's mental health and wellbeing' and
'Understanding your teenager's brain' (short course),
…suitable for every parent, carer, grandparent, and staff member in the school.
PLUS 'Understanding your brain (for teenagers only!)' suitable from 11 years onwards.
normalises support for parents

non-stigmatising

reach mums and dads and everyone around the family

normally £39 per user

Implementation Kit included to make it as easy as possible to tell everyone about the course

Evidence based, accredited by DfE CANparent Quality Mark award
check out a free taster of the course
School MUL £400 for a 12 month, unlimited user licence!
£400 –  unlimited users – valid for 12 months – gives lifetime access to everyone who registers within the licence period.
Once you have 11 parents signed up as users any further users are completely free!
To place an order, download an order form here School MUL Order Form, complete and return to solihull.approach@heartofengland.nhs.uk 
Contact us on solihull.approach@heartofengland.nhs.uk or 0121 296 4448 to discuss your requirements.
Testimonial
"Seriously impressed that the kid's school have subscribed for all parents/relatives of pupils to access the Solihull Approach course….

…. It's all about recognising emotions in yourself and your child and understanding how they impact upon behaviours rather than the old fashioned praising of good behaviours and ignoring of bad. It acknowledges that perceived bad behaviours need attention too as the cause may be stress/unhappiness/anxiety and those things shouldn't be ignored but supported. …

….The key to reducing "bad" behaviours is understanding your child as an individual and their emotional triggers and how you can work with them to manage them. Hooray! Thanks St Nicks… you've save me £40 and reassured me that I'm using the right approach J<…

…It's online, just 11 modules that you listen to/watch approx. 4/5 days apart and is VERY informative. …

….wowzer… it feels like a "one small step for man" moment!

…There's a section about child development 0-3 years at the start and it says stuff I didn't know even though I've studied it about babies turning their heads away to make neuron connections …sooooo good." 

Jen W, Alcester.
Other relevant trainings and resources include:
Testimonial
"The Solihull Approach has definitely helped us to engage more effectively with parents, some of whom had bad experiences of school themselves so were pretty stand-offish to begin with. We've noticed it makes a big difference to attendance, and staff are more sympathetic to the parents circumstances. Behaviourally – we see a big difference with the children's behaviour, instead of treating them like repeat offenders staff are more likely to get down on the children's level and find out what was behind the behaviour so our relationship with the kids is strengthened while the problem behaviour reduces."

A Derbyshire Primary School
Research
Quantitative statistical analysis found that six months after the Solihull Approach Whole School training, teachers in School A showed a statistically significant increase in satisfaction with their helping role, self-esteem, and teacher efficacy scores as well as a decrease in feeling burnt out/stressed. The teachers at School B who did not receive the training only showed an improvement in teacher efficacy over the period
Hassett, A. and Appleton, R. (2016) Understanding your pupil's behaviour: a pilot study from two primary schools in Kent. Research Report.
A list of research articles published about the Solihull Approach can be accessed on the Research page.