Training in Melbourne 2018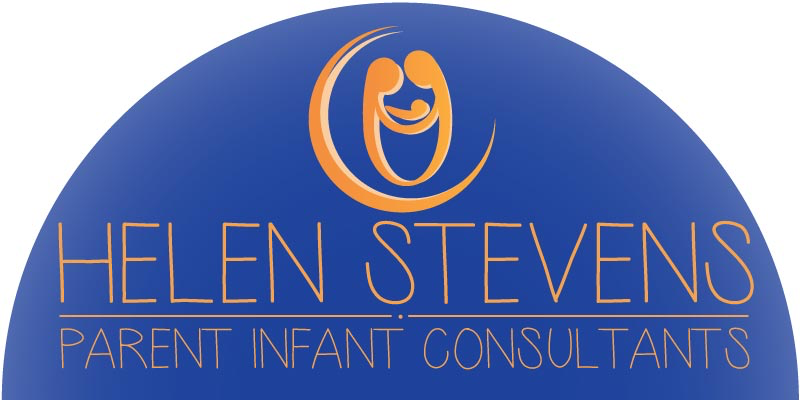 in collaboration with

We are delighted to be working with our partner Helen Stevens, parent-infant specialist, to deliver Solihull Approach training in Australia. We are really looking forward to extending the community of trained practitioners who are already enjoying this practical theory-based approach to supporting parent-child relationships.
Solihull Approach
Foundation Training

– 25 February & 5 March 2018
Flagstaff Gardens, Melbourne
This training will support your day to day work by giving you a framework for thinking about the impact of emotions, the rhythm of interactions and the timing and style of sensitive, attuned advice, to whatever context in which you work. With this training, participants learn to help caregivers identify, acknowledge and understand emotions that often prevent them from sensitively interpreting their infant and child's behaviour.
The training is accompanied by a comprehensive Resource Pack to enhance learning and theory-practice links, with details on background theories, case studies and a comprehensive set of handouts for parents on various issues in the first five years: sleeping, weaning, toileting, playing, emotional and physical development.
Choose one of two options to best suit your area of work:

Solihull Approach Resource Pack: The first five years – A resource pack for care professionals who work with children aged 0-5 years
Solihull Approach Antenatal Resource Pack: The journey to Parenthood – A resource for midwives and others working in antenatal and newborn services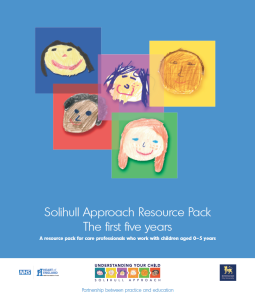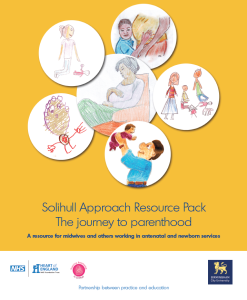 Resource Packs can be ordered when you book your training place and will be available for collection at the beginning of the first day of training.
To register for the training click here
For additional information about the Solihull Approach
click here for our home page
,
here for our research page.
Here are some additional references that may also be of interest.
If you have any questions please email us on:
solihull.approach@heartofengland.nhs.uk